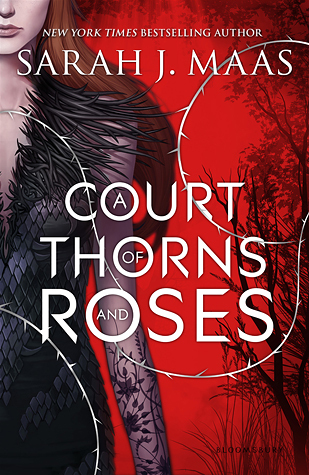 Rating: 2.5/5 stars
Review: Another book I was so ready to love–but didn't.
Anyone who knows me knows I'm a huge fan of fairy tales. I love how everything has a purpose even if it seems completely random. I love how they can turn so quickly from romance to tragedy. I love how occasionally–not often, but occasionally–a subtly empowering female figure steps into the fray.
It's no surprise, then, that I also love adaptations of fairy tales. And, props to Sarah J. Maas, her adaptation draws more from Jeanne-Marie LePrince de Beaumont's Beauty and the Beast than the Disney version. When "Beauty" (Feyre) mentioned her older sisters, I squealed. That's how excited I get when authors adapt the original stories. From the first few chapters, I was hooked. I wanted to see this strong, independent hunter girl take down the beast.
But the beast (Tamlin) didn't need anyone to take him down. In fact, he's the one who seems to take Feyre down, and even that doesn't take as much work as I'd like–it's not so hard to get a human to fall in love with you if you look like a freakin' god.
Another YA book, another instalove story.
So the first couple hundred pages of the book is that constant "he loves me, he loves me not" questioning where the readers complain about the protagonist's blindness. Yes, he loves you. We get it. He's handsome, he thinks you're beautiful, move on already. In spite of the hostilities and mystery surrounding her, Feyre allows romance to take the central theme of the plot.
And why does Tamlin constantly blame Feyre for being attractive to him? Like he can't control himself, but he can control Feyre? He tells her "don't ever disobey me again" and says he "can't be held accountable for the consequences" even when the consequence is his own lust for her.
I've said it. This story doesn't show love–it shows lust. Aside from one scene where Tamlin notes how easily Feyre understands him, there's nothing more to their romance than mutual passions. More than lust, it shows the sort of dominant-subordinate roles common in abusive relationships.
And then action happens again and Lucien is amazing and Feyre's sisters are amazing and Rhysand is amazing and Amarantha is–well, terrifying–and every character seems multi-faceted EXCEPT Feyre and Tamlin and I want to yell at this book because is it really so hard to stick to a strong, interesting female character?
Not to mention the fact that the trials and the riddle are way too predictable.
Why two and a half stars out of five, you ask? Why not lower? Like I said, the rest of the characters are amazing and complex and Maas clearly worked hard to weave the original into the adaptation. The setting is gorgeous and Maas has created yet another fascinating world for this series. I'm hopeful that the second book will focus more on the war in the plot rather than the romance, and from the way the first book ends, it looks like some of my favorite characters will play a larger role in the next book.
Recommendation: Fans of Alex Flinn and Donna Jo Napoli's fairy tale adaptations will likely enjoy this read.
I would recommend those interested in fairy tale adaptations to look into Marissa Meyer's YA sci-fi Lunar Chronicles, Ruth Frances Long's stand-alone The Treachery of Beautiful Things, or Shannon Hale's fantasy MS series Books of Bayern instead.