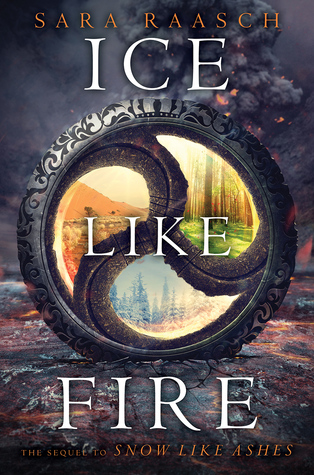 Rating: 3.5/5 stars
Review: I loved the first book, Snow Like Ashes, and I was psyched to read this sequel, albeit a little wary of middle book syndrome. Turns out, my suspicions were correct; this book exhibits all the symptoms of middle book syndrome: slow plot, poor character development, a focus on romance rather than politics and battle, and a slew of plot conveniences.
This sequel tracks Meira and Theron as they visit other Rythms and Seasons on a sort of political tour, but Meira and Theron are motivated by different causes and this divide threatens to split the couple. As she struggles to draw Theron to her cause, Meira also struggles to keep her powers under control and find a solution that could save not just Winter but her whole world.
In spite of the slow plot, though, I found myself speeding through the novel. Sara Raasch is a great world-builder, and that, at least, was not lost in this sequel.
Part of what slowed the plot down is the alternating perspectives. This technique is used far too often and is often an encumbrance and annoyance, splitting the plot in two and drawing it out longer. In this book, Raasch alternates chapter perspectives between Meira and Mather. While I enjoyed the Meira chapters (lots of world-building there), Mather's chapters were often slow and more angsty, and they saw little action until the end of the novel. Moreover, the fact that Mather is voiced but Theron is not irks me (#Theira4ever).
The main characters didn't seem to grow much aside from dealing with their growth in the first book. Raasch did, however, introduce a few side characters who seem to have the spunk and fierceness to quell our thirst for strong characters for the duration of the novel (Feige and Ceridwen come to mind).
This book also took some liberties with the magic part of the world, inventing new rules for the magic as we went and leaving several questions unanswered (why could Meira make it snow in Summer?). While the majority of the plot's reliance on magic made sense and fit with the previous series, I was confused about some of the additions. Why exactly could the Decay infect other people? If Angra died, wouldn't the Decay then infect the entire population rather than a select few? Perhaps I missed these details by reading quickly, but I wish Raasch would stick with clear boundaries for the magic and let the plot play out within that world rather than continuing to change the rules.
Recommendation: If you enjoyed the first book in the series, I recommend continuing with it; I have hopes that the last book (Frost Like Night) will make it all worth it. Those who enjoy angsty YA plots where love triangles triumph burden the plot (guilty pleasure, perhaps) might want to start this series just for the second book. I still stand by my opinion that Raasch is an excellent world-builder, so perhaps the book will appeal to you solely for that reason. There is a brothel scene (which the main characters find distasteful) and some violence (beheading, cutting, etc.), so this book is probably best for ages 14+.