My library offers a summer reading program, with different incentives for each age group. This was my brother's first year in the teen group, where, after reading four books, he could select one book from the library's prize stash to keep. And this year (now that I'm finally in the adult group and can no longer pick a book) they had ARCs on the shelves. And one of the ARCs was Walk on Earth a Stranger by Rae Carson, one of my favorite authors. I begged my brother to pick that book for me. Like a loving little sibling, he did.
And like a true little brother, he wouldn't let me touch it, holding it just out of reach at all times.
He finally gave it to me last Sunday for my birthday, and, naturally, I read it soon after.
That was probably the longest backstory for a book review, but it had to be told. In any case, here are my thoughts on the YA novel.
---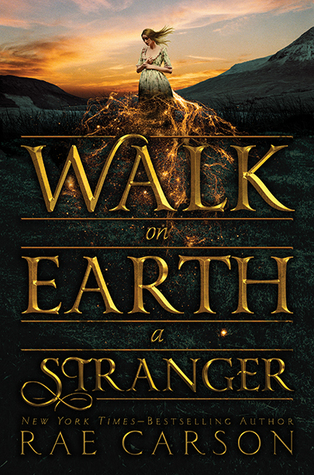 Rating: 4/5 stars
Review: This book is very different from Carson's Fire and Thorns series. That's not a bad thing; it just took me a few chapters to adjust to Carson using words like "blast" and "witchy." The novel takes place during the California Gold Rush. The protagonist, 15-year-old Leah Westfall, calls herself "witchy" because she can sense gold around her. In the time of the California Gold Rush, this is an incredibly useful talent. It should be no surprise, then, that anyone who finds out about her powers would want to use them for their own gain. So when someone takes everything away from her and attempts to control her, Leah dresses like a man and runs off to California on her own. As anyone who's played Oregon Trail knows, Leah encounters quite a few setbacks on her journey.
One of the things I loved about the Fire and Thorns series was the unusual protagonist. While Leah Westfall is by no means usual for her time (what kind of girl can hunt and muck the stables in 1849?), she is a familiar character. The situation and fantastical elements Carson surrounds Leah in, though, are new and intriguing. No book about Western America in the 1800s has interested me as much as this one. In fact, I can't say I've heard of many books at all on the subject, and certainly not any YA novels. Walk on Earth a Stranger is one of a kind in its setting and audience.
Leah may be a familiar character, but the rest of the cast are not. Jefferson, Leah's friend from home who sets off for California shortly before her, is unpopular at school because his mother is Native American. His father is an abusive alcoholic. The Joyner family, whom Leah works for on much of the journey, is the mid-1800s version of a "white picket fence" family, but each member of the family (except Olive, who remains out of the spotlight) becomes increasingly complex as the book progresses. Reverend Lowrey is an obnoxiously religious Presbyterian pastor. The Illinois College Men are "confirmed bachelors." The Hoffmans are German immigrants. James Boisclair is a wealthy, free African American.
The plot is a little slow, but I imagine that fits the time well. The trip to California was not a fast one. Still, the novel is indisputably faster than another book about Southerners moving to California in hope of finding wealth. Regardless of the pacing, I consider this book a page-turner.
The fantastical element of the story–Leah's "gold-witching"–is not as central to the story as I expected. It set the plot in motion, but it doesn't play as large a role as Elisa's magic in Girl of Fire and Thorns. Leah's talent does help her find others several times in the story, but I think there could be a bigger buildup of tension to her secret being revealed. My favorite kind of plot is one in which the main character keeps a secret from everyone else for so long, the reader might melt if they don't reveal the secret soon. That might be an exaggeration, but I didn't feel anything close to melting when Leah reveals her secret to one of the main characters. I'm glad the focus remains on history rather than fantasy, though, as I was able to learn much about the time and setting through this novel.
Recommendation: I can't think of a way to recommend this book other than to say who might not enjoy it.
I don't think everyone who loved Girl of Fire and Thorns will love this book. It's for a different audience, certainly.
I also don't believe super conservative families will enjoy the book's take on religion. Though, truthfully, I'm from a more conservative background and I find the novel honest in this aspect. In a time where much of the church encouraged slavery and white male supremacy, I find Leah's attitude toward Christianity completely understandable.
I also wouldn't say this book is just for people who love the old west; Carson does well explaining the setting in an interesting way, so people unfamiliar with the historical context might enjoy it, too.